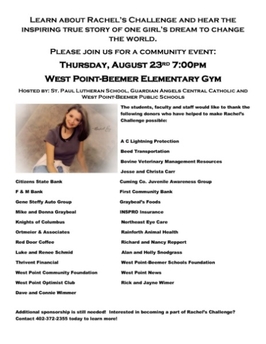 St. Paul Lutheran School, Guardian Angels Central Catholic, and West Point-Beemer Public Schools have accepted Rachel's Challenge. Come learn about Rachel's Challenge and hear the inspiring true store of one girl's dream to change the world. The first event will be on Thursday, August 23 at 7:00 p.m.. in the West Point-Beemer Elementary Gym. If you are interested in becoming a sponsor for Rachel's Challenge, please . . .
Race for Warriors 5K 2018
Save the Date for the 2018 Race for Warriors 5k! Saturday, October 13, 2018 Check back for updates as more information on the race and registration will be posted here!