---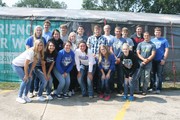 Leslie Kreikemeier
Senior Class
---
Seniors Experience Compassion
On September 11, the senior class from GACC traveled to Fremont to tour the Compassion Experience, an immersive exhibit that exposes tourists to other cultures and the realities of global poverty for a child living half a world away. Bobbie Ortmeier said the Compassion Experience "was really eye-opening for me. I never fully understood how people in other countries lived.
The students went through recreations of the homes, schools, and other various town sites in the lives of Carlos, a little boy in Guatemala, and Shamim, a little girl in Uganda who lost her hearing to malaria. It was "emotionally and physically engaging. You felt like you were actually in their place," commented Allie Knobbe.
Student seemed especially struck by Carlos who had to go to work at age five after his father died and only ate an egg a day - half for lunch and the other half for supper. "We don't worry about food; they do," realized Regan Dorcey.
Webmaster's note: Thank you to Mrs. Leslie Kreikemeier for sponsoring this trip, for writing this article and sharing the pictures.