---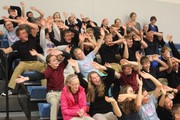 Photo Courtesy of 2015-2016 Yearbook Staff
---
House Activities
In December the House groups had a fundraiser and the teachers with the most money raised got a pie in the face.
Mr. Schlaebitz, Mr. Lammli, Mrs. Benne, and Father Steve were the lucky ones who got a pie in the face! Students also participated in an Improve performance, wheelbarrow races, leap frog, cheers, and singing the school song.
Click on the images to view each gallery.
Thank you to the 2015-2016 GACC Yearbook Staff for providing images!