---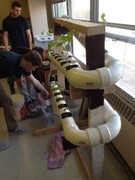 Photo Courtesy of Cody S.
Jeremy W. and Dylan S. working on the Hydroponics System
---
High School Plant and Soil Class
Hydroponics Project
The high school plant and soil class has constructed a hydroponics system to test the growth of plants using water that has been enhanced with the help of sucker fish. The group of eleven students designed and built the system over several class sessions. The plants include tomatoes, beans, broccoli, and corn.